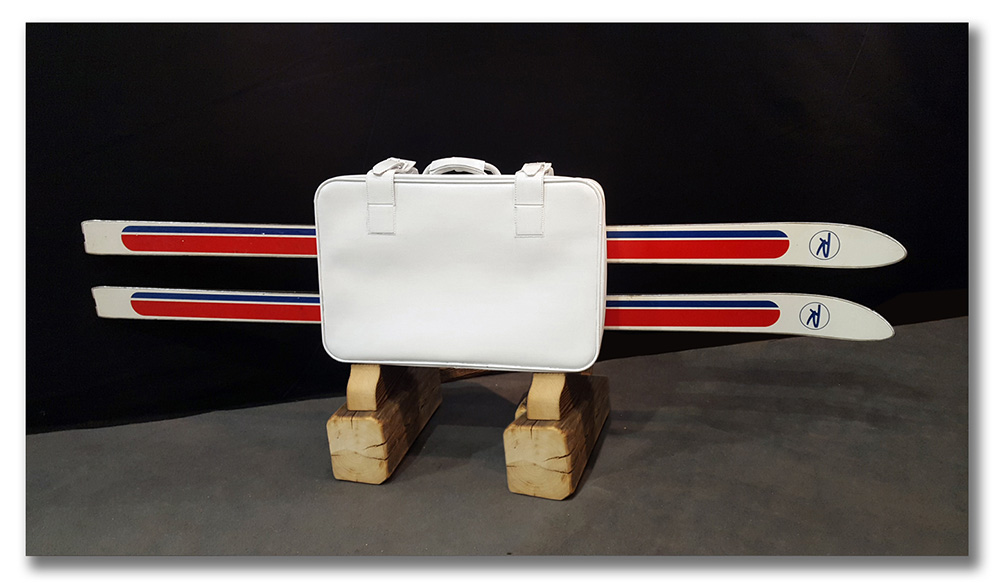 ______________________
LA VALISKI
Modèle d'exposition
Showroom model
Janvier 2017
NATURE : Objet usuel de la vie courante
LA VALISKI nom féminin I ♦ Bagage à main de forme rectangulaire, relativement plat et muni d'une poignée ayant la spécificité de pouvoir transporter des individuels de glisse à patins longs. II ♦ Révélateur d'insouciance élégante. Loc. Faire sa Valisiki : Y disposer ce qu'on emporte en voyage.
En République Indépendante des Pays Merveilleux, il est inconcevable de se déplacer sans ses skis, où que l'on aille. La maroquinerie des Pays Merveilleux connaît actuellement un grand Boom dans la technicité et le charme discret de ces baggages individuels.
.
——–
.
THE VALISKI
Nature : an object of a practical use for everyday life
The Valiski : noun (countable) I ♦ A rectangular shaped hand luggage, relatively flat and equipped with a handle making you able to carry a pair of long thin narrow pieces of wood for a use on snow. II ♦ an indicator of elegant insouciance. Exression. "to pack with a Valiski": to put there what you need on a journey.
In the Independent Republic of Pays-Merveilleux you can't possibly move without your skis wherever you want to go.The maroquinerie factory of Pays-Merveilleux is booming thanks to the technical and discreet charm of these individual pieces of luggage.